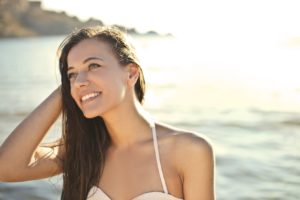 Are you embarrassed by stained, gapped, or chipped teeth? You don't have to spend another summer hiding your imperfect teeth. Whether you only have one concern or several, your cosmetic dentist can give you a summer-ready smile with 3 popular services. After just 1 or 2 appointments, you can have a smile you'll be proud to share with the world.
1. Veneers
A veneer is a customized shell that is bonded to the front side of a tooth, improving its color, size, and shape. When applied to the teeth visible when smiling, veneers can correct several issues at once, including stains, chips, or gaps. Modern veneers are ultra-thin, making the procedure less invasive. After 2 appointments, you'll have a flawless smile. Although veneers are associated with a hefty price tag, they can be the most cost-effective option by eliminating the need for multiple procedures.
2. Cosmetic Dental Bonding
Don't let a chipped or stained tooth be the focal point of your vacation photos. Your dentist can fix minor cosmetic and restorative flaws in 1 visit. Composite dental bonding uses a tooth-colored material to enhance the health, function, and appearance of a tooth. Bonding provides a lot of bang for your buck because of its versatility and affordability. If you have a cavity, exposed root, chip, crack, or another blemish, dental bonding offers quick results that last.
3. At-Home Teeth Whitening
Teeth naturally darken with time, which can make your smile look aged, unhealthy, and dull. If you want a smile as bright as the summer sun, don't waste money on OTC whitening products. Instead, your cosmetic dentist can give you everything you need to restore your smile at home. You can enjoy in-office results with a take-home kit. Your dentist will give you customized trays and a professional-strength whitening agent to get your teeth up to 8 shades brighter in 2 weeks. If you have previously had your teeth whitened, an at-home kit is great for touch-ups in between your regular sessions.
A Beautiful Smile is Everything
Research has found a person's smile to be one of the first things people notice. Not to mention, your confidence is also influenced by the appearance of your teeth.
If you don't like the way they look, it's easy to have social anxieties, which may hold you back from enjoying summer to the fullest. Cosmetic dentistry will ensure your smile gives the right impression while giving your self-esteem a boost.
If you are ready to smile, laugh, and speak freely, make this summer one to remember with the help of your cosmetic dentist.
About Dr. Bryan Friedland
Dr. Friedland earned his dental degree at Nova Southeastern University and completed his residency in general dentistry. As a lifelong learner, he has taken countless hours of continuing education to provide advanced services, like dental implants, Invisalign, and cosmetic dentistry. Contact our office today to request your consultation with a dentist supported by 20 years of experience.