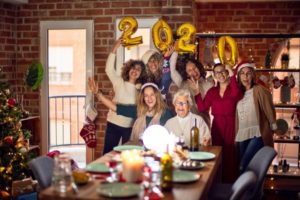 As we start a new year, isn't it time you make yourself a priority? What not start with your smile? Now is the perfect time to recommit to your dental health with the help of your dentist in Pembroke Pines. At Friedland Family Dentistry, you can invest in a new you with the help of a new dentist. Dr. Friedland is committed to providing you with the high-quality dental care you deserve to enjoy a beautiful, healthy smile that lasts.
Enjoy a New You
Research shows your teeth are influential in more areas of your life than just chewing your favorite foods. Your dental health also impacts your overall health and your quality of life. Not to mention, the appearance of your smile is also important for the way you see yourself. If you don't like your teeth because of poor oral health or cosmetic imperfections, it's easy to feel insecure. With a trip to your dentist, you'll take the first step toward enjoying a new you.
Correcting dental health issues and cosmetic imperfections will transform your confidence and your quality of life. You can chew, speak, and smile without any concern. You can start the new year looking and feeling your best through a healthy, beautiful smile.
Choose High-Quality Dental Care
Dr. Bryan Friedland has over 10 years of experience providing comprehensive dental care to the community. He strives to create individualized solutions catering to each patients' needs and concerns. Besides earning his dental degree, he also routinely completes continuing education courses to remain well-versed in the latest dental treatments, including implantology and Invisalign. He has the qualifications and experience you can trust to invest in a happier, healthier you.
Get the Smile You Deserve
Besides the health of your smile, you can also improve it with cosmetic dentistry. Our office can help you achieve the smile of your dreams using a personalized treatment plan addressing your specific concerns. Depending on your exact needs, you may benefit from porcelain veneers, teeth whitening, gum contouring, or a complete smile makeover.
Make Time for Your Smile
We know your schedule is busy, which is why we are conveniently located and offer flexible office hours to make it easier to maintain your visits. Now that the hecticness of the holidays is over, take the time to schedule an appointment with your dentist. We offer morning and evening office hours to accommodate your daily responsibilities.
Dentist Near Me for a New Smile
As you start the new year, keep yourself a priority. Recommit to your smile with the help of a new dentist. We look forward to meeting you!
About Dr. Bryan Friedland
Dr. Bryan Friedland believes he can transform lives by enhancing smiles. For over a decade, he's helped his patients live happier, healthier lives through improved dental care. He's undergone advanced training in many areas of specialty to promote both the health and appearance of the teeth. If you're looking for a new dentist, choose the high-quality can you deserve. Contact our office today to schedule an appointment.