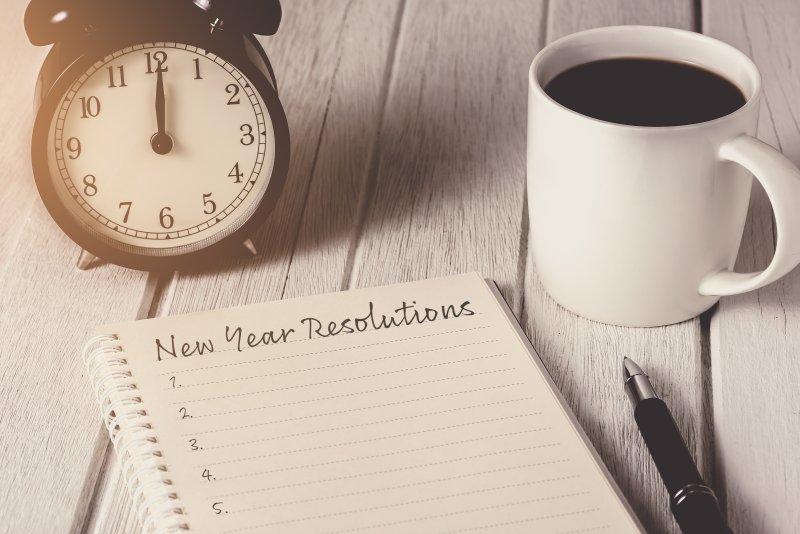 The temperature is dropping, the days are getting shorter, and December is quickly coming to an end. Do you know what that means? 2022 is right around the corner! Many are starting to work on their list of New Year's resolutions, coming up with ways to increase their health and wealth. Well, choosing to make your resolutions about your oral health can help you accomplish just that! Read on as we share a few ideas that can help you keep a healthy smile and enjoy a thicker wallet.
Make Positive Changes
Are there several positive changes you want to make in your life? The new year is the perfect time to commit to them, especially if it's about your oral health. After all, it's never too late to improve your smile! You can make a huge impact on your long-term dental health by powering up your oral hygiene routine, avoiding bad habits, and making better dietary choices. What's more, those positive changes can improve your overall health far more than you might realize.
Establish a Solid Oral Hygiene Routine
A good oral hygiene routine can have a profound effect on your mouth's health. Not only will your teeth shine brighter, but your gums will become less sensitive. Here are some steps you can take to keep your smile as healthy as can be:
Gently brush twice a day for two minutes each time using a soft-bristled toothbrush
Use fluoride toothpaste to keep your pearly whites strong and healthy
Thoroughly clean between your teeth using dental floss at least once a day
Rinse with an antiseptic mouthwash after brushing
Follow a Healthy Diet
It may not seem obvious, but your dietary choices can have a significant impact on your oral health. The foods you eat can provide nourishment for cavity-causing bacteria, potentially contributing to a slew of dental problems. For the sake of your oral health, you should aim to make better dietary choices in 2022. You should limit your consumption of sugary or acidic foods, reduce snacking, and eat lots of nutrient-packed fruits and vegetables.
Say No to Dry Mouth
Saliva plays a crucial role in maintaining the health of your teeth, mouth, and gums. It provides your enamel with minerals, neutralizes pH levels (the acidity), and helps wash away unwanted substances. Because of that, dry mouth can contribute to several oral health problems. Fortunately, you can keep your saliva flowing by chewing sugar-free gum, drinking milk or other dairy products, limiting your alcohol consumption, and drinking plenty of water every day.
Why not make 2022 the year to improve your oral health? By following the tips outlined above, you can keep a beautiful, healthy smile all year long!
About the Practice
At Friedland Family Dentistry of Pembroke Pines, we believe you're more than just a set of teeth. Our team strives to provide exceptional, high-quality, personalized dental care that's guaranteed to leave you smiling after every appointment. We are passionate about educating patients to help them make confident and informed decisions for their oral health. For more New Year's resolutions ideas, visit our website or call (954) 450-6640.